CUPID'S CURSE – THE OTHERWOLDER BOOK TWO
BOOK LINKS
Amazon: http://amzn.to/1ZOWNzi
iBooks: http://apple.co/1OLr8vz
B&N: http://bit.ly/1VmrgUb
Kobo: http://bit.ly/1UnvA5h
BOOK BLURB
Raine's a Fae with no magic. Banished to live among "Mundanes" in the human world she works as an Inquisitor for Otherworlders. And she is having a very bad start to her New Year!
Her dragon Sam wants a girlfriend. Her weretiger boyfriend Jordan is being strangely hormonal. And old enemies are emerging from the woodwork, forbidding Slade, her only friend, from giving her any magical assistance.
Things start to look up when Cupid offers Raine a job with a fat paycheck- if, before Valentine's Day, she finds the person screwing with his dating service and getting his clients killed.
But Raine isn't the only one trying to figure out what's going on. The Guardians have their eyes trained on Raine. And as the Otherworlder version of the Secret Police, she can't afford to get on their bad side.
Raine must discover who wants Cupid to close his doors for good, and deal with Jordan's sudden need to take a Valentine's Day trip to Vegas, all while trying to keep herself out off everyone's hit list.
EXCERPT
Raine reached for her pants. Jordan's large warm arms wrapped around her waist and he turned her to face him.
"Hey." His deep voice soothed her.
She held back the tears in an effort to keep from showing weakness. She never talked about her parents. Or her home plane. Or anything having to do with where she'd come from. Not even with Jordan.
He tilted her chin with his calloused finger and forced her to look into his deep green eyes.
"Are you okay?" His voice was gentle as a spring rain.
"Yeah, I'm great. My parents who haven't spoken to me in over four years just sent me a letter demanding that I help a stupid sprite with some problem probably involving the fact that her bubbles are the wrong color in her washing machine."
Jordan's chuckle purred in his chest and rumbled through her like a bass drum.
"I didn't know sprites had washing machines."
She pushed away from him. "You know what I mean." She was in no mood to be chided.
He pulled her back into a tight embrace. "Come on darlin'. It's going to be okay."
His warmth smothered her but the connection was exactly what she needed. Over the last month things had been weird with Jordan. He'd been busier than usual with work and his pack and his dad. She didn't want to believe that his sudden distance had anything to do with her and in moments like these, when he held her tight, she almost believed that she wasn't at fault.
His hard body sent a thrill through her. Sex with Jordan was intense and wild and she could never get enough. She clung to him, her nails digging into his back.
"Hey now," he said. "You know scratching gets me all fired up." He nuzzled her neck trailing his warm lips down to her collarbone.
Goosebumps rose all over her body and she shied away from him and giggled.
"Did you just giggle?" he asked.
"No." She feigned horror. "I never giggle."
"Oh really?" He bent down and licked up the line of her throat up to her ear.
Her breath caught and she tried to form thoughts that didn't involve Jordan being naked.
He nibbled around the side of her ear and up to the pointed sensitive tip. Her legs weakened and warmth pooled between her thighs.
"I love your ears." He flicked his tongue into the inner rim. "They're so much like a tiger's."
Shockwaves of pleasure shot through her. She grabbed the back of his head and pulled his hair. When his eyes met hers they were the fiery orange glow of his tiger.
His smile broadened. "Don't do that if you don't want to play. You know I like it rough darlin'."
"Ewww…get a room," said Sam.
"This is our room," growled Jordan, his eyes never leaving hers.
"I'll just go in my room then," said Sam. "Maybe I can find a re-run of Game of Thrones. Those female dragons make my scales tingle. Fiesty."
"Out!" Alpha dominance poured off Jordan in rivulets. The predatory nature of his muscular body exuded sex and made Raine's temperature spike.
Sam left muttering about sexy wing spans.
It'd been too long since she'd felt Jordan's skin on hers. Ten days and five hours to be exact. She needed him. Letting go of his hair she slipped her hands under his shirt raking her nails down his back. "So, I shouldn't do something like this?"
His eyes closed and he shivered, letting out a low growl. "Raine," his voice was tight as a drum and the sound of her name on his lips made her weak.
She slid her hands inside his low slung jeans and grabbed his firm buttocks. "Say my name again," she whispered.
He opened his eyes and they'd gone to slits like a cat's. His intense gaze, softened and he crushed her against him. "Raine."
His hard length pressed against her belly and she shivered in anticipation. She pushed her hips into his and his hands molded onto her rear. His gaze locked on hers for a moment longer and then he attacked.
Dropping her to the bed her covered her mouth with his, claiming her lips. Her feet hung off the too small bed and the box spring groaned under his weight.
Need wound tight inside her and she fiddled with his belt buckle. She bit his neck, on the tendon and swirled her tongue down the length of his throat.
"Raine." His voice came out more animalistic growl than human. He grabbed the headboard and it creaked under his grip. The nails from his right hand dug deep into her hip.
She stopped licking him. Crap!
AUTHOR BIOGRAPHY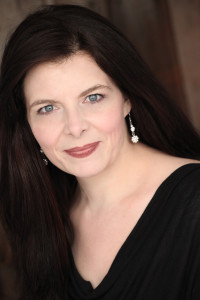 Rebekah is an Award Winning Bestselling Author. Her debut novel Dead Awakenings, hit the bestseller list the first day, in January 2014. Her Fairelle Series, released in May 2014 and has won several awards including the Golden Palm and a finalist for Rone Award. Her trilogy The Society was released by Kensington in 2014 and her new series Shifter Rising is releasing April 12th 2016 from Samhain Press.
Rebekah is currently working on six series in the Fantasy, Paranormal Romance, Urban Fantasy, Sci-fi genres. She has five books releasing in 2016.
Rebekah is the President Elect of the FF&P Chapter. In her spare time when she isn't writing you can find her teaching on SavvyAuthors.com or at RWA. Rebekah also cosplays with her kids and is a guest speaker and panelist at San Diego Comic Con and Salt Lake Comic Con and several other Comic Cons on the west coast as well as LTUE, Romantic Times Convention, and Authors After Dark.
AUTHOR LINKS
Want to catch up on the Otherworlder Series? Book One, Saving Christmas is available for only $.99!!
Amazon: http://amzn.to/1KJcAJ3
iBooks: http://apple.co/1SeZuLU
B&N: http://bit.ly/1JKeVIU
Kobo: http://bit.ly/1OTzYaN